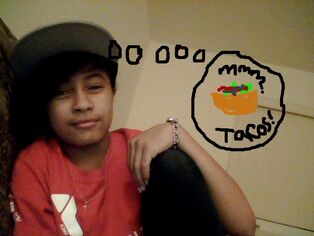 Favorite Color
Edit
My favorite color would be blue, because its a calming color. And it suits my personality well.
Favorite foods
Edit
Hawian style pizza
BBQ wings
Tamales
Tacos
French toast
Pancakes
Wafles
Orange chicken
Fried rice
White Shirataki Noodles
Nong Shim Shin Bowl Noodle Soup
Favorite T.V shows
Edit
Shake It Up
How To Rock
Victorious
iCarly
Jake and the Neverland pirates
Bubble Guppies
Team Umizoomi
Go Diego Go!
Favorite movies
Edit
Lemonade Mouth
the Harry Potter series
The Hunger Games
Colections
Edit
Rocks
Coins
Hats
My Hobbies
Edit
Drawing
Writing poetry
Playing the Guitar
Playing the Piano
Cooking
Taking pictures of the sky during summer time
Things I Find Funny
Edit
Movies that are suppose to be scary
Dry Humor
Beauty pagents
Tofu
When little kids try to act older; and old people try to act younger
When i ask my teacher if i can talk to my friends as long as its on subject.. but dont.
When i give my friends something for V-day they think i'm crushing on um (silly friends)
Things I Find Scary
Edit
Spiders
My teacher
Bees
Old ladies in skinny jeans
When i'm alone at my house for to long
Bad Habbits
Edit
Cracking my knuckles
Not focusing
Drawing on my homework
Finding a exuse on not doing something
Things I Find Boaring
Edit
School
School teachers
Intresting Facts
Edit
I'm in the 7th grade
I'm 13 years old
My birthday is December 30,1998
I'm home Schooled (first year)
I have a stuffed bear named Teddy and a stuffed monkey named Monkey that i sleep with (you will tell no one!)
I love meeting new people
Thats all folks!.... I'm hungry. O.O
Favorite Actresses
Edit
Ariana Grande (Cat Valentine) *vicTORIous*
Kristen Stewert (Bella Swan) *Twilight Series*
Sierra McCormick (Olive Doyle) *A.N.T Farm*
Lulu Antariksa (Stevie Baskara) *How To Rock*
Hayley Kiyoko (Stevie) (Stella Yamada) *Wizards of Waverly Place* *Lemonade Mouth1and2*
Angelina Jolie (alot)
Penelope Cruz (alot)
Jessica Alba (alot)
Emma Watson (alot)
1st: Help Carly101 build her site
Then: TAKE OVER THE WORLD!!!!!! AHAHAHAHAHAHAHAHAHAHA!!!!!!! ju
st kidding... maybe!
The puppy to your right is going to help me
take over the world... he's working on his evil laugh,
right now it sounds like Woof woof! and Bark bark!
and GRRR...yeah we're working on it..
BUUHAAAAAHAHAHAHA!!!!!!!!
Relationship Status
Edit
Single...yup, i'm all alone... so sad.... so so sad *sigh* (starts singing) Lonely.. I am so lonely, i'm by myself!!!!!!
B.O.F Best Online Friend
Edit
Purplewaffles13 (A.K.A Coolness) (A.K.A Purfles) (A.K.A Kat)
B.O.F Best Offline Friends
Edit
Jacob
Jennifer
Jocelyn
Kristen
Eli
Sarah J.
Julia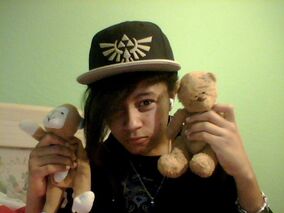 Favorite Songs
Edit
2NE1 - Clap your hands
Ariana Grande - Put your hearts up
Britney Spears - I wanna go
Britney Spears - Till the world ends
Don Omar - Danza kuduro
Evanescence - Wake me up inside
Flo rida - Good feeling
Foster The People - pumped up kicks
Fun - We are young
Kelly Clarkson - Stronger
Linkin Park - Numb
Miranda Cosgrove - Sayonara
Offspring - You're gonna go far kid
Rita Ora - Hot right now
Skrillex - Dubstep
The Saturdays - Higher
The Saturdays - Forever is over
The Stunners - Spin the bottle
The Stunners - We got it
Utada - Merry Christmas mr. lawrence
Utada - Simple and clean
, *THIS WILL BE CONTINUED...but not now*
Favorite Guitar/Bass Players
Edit
Hayley Kiyoko (Hayley is pure boss...down right awesome..no. More than awesome, EXTREAMLY AWESOME!)
Lulu Antariksa (beyond amazing.. no words...speachless...shes got real talent)
Slash (mad skittles on the guitar)
My Thoughts
Edit
This site feels kinda empty... hey does anyone own a leprechaun??
Favorite Places to Be
Edit
Knotts Berry Farm
Soak City
The Movies
Strip Mall
The Beach
The Park
Downtown San Diego
Little Italy San Diego
Petco Park Downtown
Community content is available under
CC-BY-SA
unless otherwise noted.